After Maui Wildfire Destroys His Home and Business, DU Graduate Raises Funds for Lahaina Community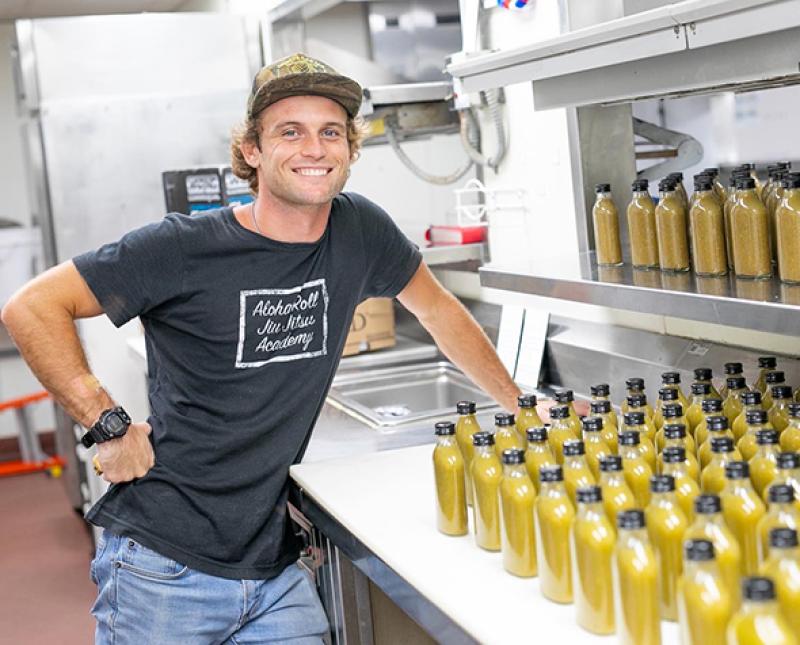 When Cole Millington (BA '19) heard that his friend Avery Donovan was headed to Hawaii to live with his uncle and work a summer job, he asked if he could tag along. But what began as an adventure working as a dive guide and surf coach took root as a deep appreciation for Maui and for nature—and offered an opportunity to put into motion an entrepreneurial spirit fostered at the University of Denver.
Millington settled in Lahaina, a town of more than 12,000 on Maui's west coast. Even after friends returned to the mainland and throughout the COVID-19 pandemic—when unemployment peaked at 80% on the island—he stayed. He had found a sense of community there that he didn't want to leave, which has persisted through the island's recent tragedy and the resulting hardship.
On Aug. 8, Lahaina was the center of a series of chaotic wildfires that left 115 people dead and another 388 missing. More than 2,200 homes and businesses burned to the ground, including the house where Millington lived and every physical asset associated with his growing business, Honolua Hot Sauce Company. Estimates put the total monetary damage caused by the fire at over $6 billion.
Millington narrowly escaped the fast-approaching wildfire, throwing just his laptop, guitar, passport and dog into his '94 Toyota pick-up truck, driving on a cramped two-lane highway with the flames only a few hundred yards behind. He was tipped off to the fire when he randomly looked out the window only to find a thick curtain of black smoke alarmingly close to the property. The evacuation notice didn't come until after he was already fleeing the house, driving between stopped cars and downed trees.
In the weeks since the fire, Millington has turned his attention to ways to give back to the community that has so readily embraced him. While staying in a one-bedroom apartment with 15 other people immediately after the fire, he decided to launch a fundraising effort with The R.E.L.I.E.F. Foundation to support the people of Lahaina.
"The first two weeks were pretty rough," he says. "A lot of chaos, a lot of uncertainty. There's still a lot of uncertainty but a little less chaos. With these fundraisers, I just want to make sure that the other people around me who have taken care of me over the past couple years are okay."
Millington has since moved to a hotel room provided by the Red Cross and, as of this writing, he's raised nearly $150,000 from crowdfunding and private donations.
Millington, a native of Nantucket, Massachusetts, says he was inspired by the community of Lahaina, which values mutual respect, hard work and deep connections. Because of his DU education, he felt that he had the skills to successfully market his efforts and advocate for others, helping the tight-knit locality.
His journey from the East Coast to DU was driven by a similar search for community—and a love for the outdoors. Millington managed to ski at least 60 days a year, regularly making the 45-minute trip up to Arapahoe Basin to squeeze in a half day on the slopes, and still graduated with an A-minus average. Millington cleared his head in the great outdoors, and he shaped that into a passion and profession, graduating with an environmental science degree and a devotion to sustainability.
The only thing missing here was the ocean. The landlocked features of the Rocky Mountains were claustrophobic, in a way, for Millington, and he longed to be near the water. But rather than head back home, he washed up nearly 3,200 miles west of Denver and more than 5,000 miles from Nantucket, in Lahaina, Hawaii.
"I was in Denver for five years, and I loved it there," Millington says. "I really loved my time at DU and all the people I met. But when I came [to Lahaina], there were just so many similarities of the things that I love—surfing, island life, small town vibes. All of that that has kept me here."
When the COVID-19 pandemic hit the tourism-reliant island of Maui, Millington was laid off from his job. He passed the time by cooking, tapping into time spent working in restaurants and food trucks back home, as well as a flair for marketing that he developed while earning a minor at the Daniels College of Business.
His focus quickly shifted to hot sauce, serving it to his roommates, then neighbors, and eventually shipping it to family and friends. All the reviews were positive, so he decided to expand, renting a commercial kitchen space to hand-bottle his product. As the island started to open back up, he began selling it at farmers markets and, before long, his hot sauce was on shelves at a handful of local stores and being shipped to 40 states. In about three years, he sold roughly 10,000 bottles and was preparing to expand once again.
Then, the fire in Lahaina consumed his entire stock of sauce, along with all the paper documents and physical equipment associated with the business. All that's left is the brand name and an Instagram account.
Millington says he's unsure whether he'll rebuild the business. There are too many pressing concerns that first need to be addressed. But if he does, he hopes that 5-10% of the profits can be put toward long-term fire relief and other sustainability goals.
By his junior year, he had completed all the classes he needed for the program and branched out with minors in marketing and Chinese.
His time at Daniels, he says, is where he developed some of his closest connections and strongest skillsets. He tapped into the entrepreneurial spirit that would drive his future business and fundraising efforts. Millington credits Jack Buffington, Michael Myers and Michele Cunningham as professors who helped stoke his interest in marketing, pointing specifically to a sales competition trip he took with Cunningham.
"I reached out to a couple of professors specifically and they were some of the most impactful teachers I've ever had in my life," he says. "I owe a lot of the success that I've had, through my ability to sell myself, my business, whatever it is, to them. To be able to market well and have confidence in my ability to achieve not just ideas, but to make those ideas come to action. A lot of those classes were just such pivotal moments in my life."
While his business future is uncertain, Millington says the Lahaina community is his most pressing concern. Ultimately, he says the people in Lahaina need support and, once the community is rebuilt, they will continue needing compassion.
"We need you to keep us in your hearts and your minds," he says. "And if you decide to come visit Maui, when it reopens, make sure that you're kind and respectful. Most visitors are—but don't take advantage of the land or the people or the aloha spirit that people give you, because everyone's hurting hard right now.
"We're all afraid that when tourists come back, we're not going to have the mental capacity to just throw on smiles every day and be super nice and all that. So, I just want to make sure that people understand that this is a home for so many people, and it's not just the playground. It's got so much history and generational culture behind it."