DU Alumna Notches Victories On and Off the Soccer Field
Kristen Hamilton Excels in Eighth Year in NWSL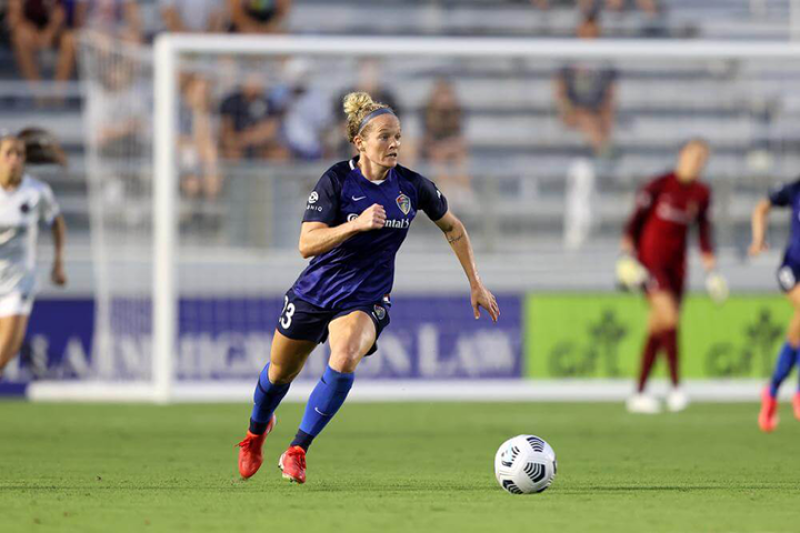 The last shall be first, and the first shall be last — the adage rings particularly true for Kansas City Current forward Kristen Hamilton. 
In her career, Hamilton (BS '13) has been first, last and everywhere in between. 
Hamilton, who earned a degree in finance from the Daniels College of Business, was the first University of Denver women's soccer player to be drafted to the National Women's Soccer League. 
But in 2014, she waited a long time to get that call. With the last pick of the draft, the Western New York Flash, who have since rebranded as the North Carolina Courage, selected the 5-foot-4 forward. 
Two years later, the Cinderella story came to life when the Flash went from last to first, winning the NWSL championship. As Hamilton puts it, they never should've won that game. 
"A bunch of nobodies," Hamilton says. "Just this blue-collar work hard team that was like, 'We're going to go out and go guns blazing and score as many as we can.'" 
Since then, she's won two more NWSL titles and is currently tied for second all-time in hat tricks and is fifth all-time in playoff appearances. 
But perhaps her greatest victory has come off the pitch. 
In February, the seasoned veteran helped secure the league's first collective bargaining agreement, raising the minimum salary to $35,000. When Hamilton entered the league, it was $7,000. 
"You're pretty much paying to be a pro at that point," she says. "... I'm sure a lot of careers were cut short because they couldn't make it work." 
At the time, she lived with a host family in Buffalo, New York, and in the offseason, she'd travel home to Littleton, Colorado, where she worked at a credit union. 
"I did accounting," Hamilton says. "One of the years, I drove for DoorDash." 
The agreement also provides free housing, transportation, fully vested 401(k) contributions, health, life and disability insurance and eight weeks of parental leave. Overall, the CBA requires NWSL owners to invest an additional $100 million, according to CBS Sports. 
In the last eight seasons, Hamilton has seen an increase in the NWSL fan base. In Buffalo, the team was lucky to get 800 fans. In Kansas City, the Current, which is in their second season, averages 7,000 fans per game. 
"Kansas City is a huge soccer city. People love it," Hamilton says. "The money that's been put into us has been awesome. There's a long way to go but this team's going to be huge." 
And it's working. Hamilton's already the team's leading scorer with 10 goals in two seasons. From last to middle of the pack, the Current (4-4-3) continue to climb the standings, perhaps making way for another Cinderella story.