Making a Difference on 1Day4DU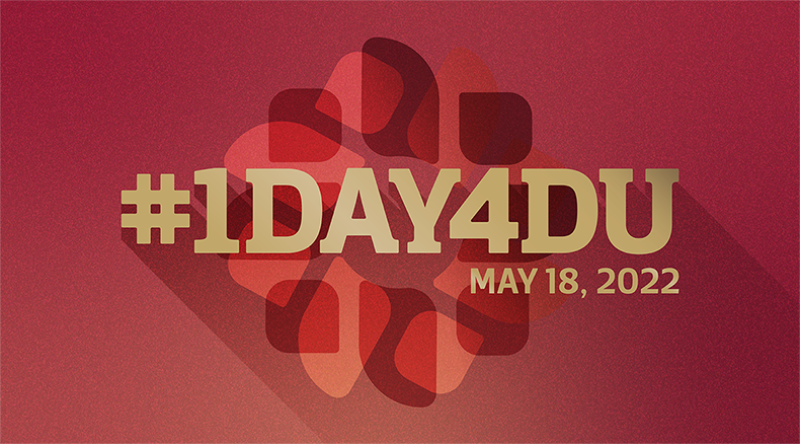 Wednesday, May 18, marks the annual 1Day4DU — the University's day of giving. 1Day4DU brings support to and builds awareness of meaningful priorities and projects spanning the entire University. Every year, DU's alumni and friends across the country and around the world support students and programs by giving during 1Day4DU.
Individuals can give to any area of the University during 1Day4DU. This year, 22 crowdfunding projects will be highlighted during the day of giving. All the projects fall under seven broader areas of support:
Arts and Innovation

Athletics and Recreation

Chancellor's Priorities

Leadership and Professional Development

Local and Global Impact

Student Resources and Support

STEM (Science, Technology, Engineering, Math)
Projects benefit students, faculty, staff and many living in the Denver community. Gifts to the chancellor's priorities will strengthen multiple projects, including the DU Endowed Scholarship Fund, the 4D Experience and the new James C. Kennedy Mountain Campus. There are multiple funds that support students across the various academic units. The Newman Center's Education Fund provides expanded arts education programming for K-12 students. The CUB Clinic provides mental health support for caregivers, couples, family members and their young children.
"Every year during 1Day4DU, we see the tremendous generosity of our alumni, faculty, parents, staff and friends and the overall impact their support can have on our students and our dedication to the public good," says Val Otten, senior vice chancellor for Advancement. "There are many different featured projects this year, allowing individuals to find something they are passionate about and then make a significant difference for that cause."
Last year, more than 3,400 donors helped raise more than $1 million during the day of giving. Over half of the donations were under $50, and nearly every project had a generous matching donor. Every member of DU's Board of Trustees made a gift during 1Day4DU. This year's goal is to meet or exceed the number of donors in 2021.
For the second consecutive year, the crowdfunding site will allow individuals to mobilize as "advocates" for a certain cause that may capture their passion. Advocates can share their impact across their social networks and even create a match challenge, allowing others to donate directly to that same program.
Along with the digital experience, the Office of Advancement is co-sponsoring May Days with the DU Student Foundation and the DU Programming Board (DUPB). In addition to the activities that will take place on the Campus Green, Advancement is bringing back DU's signature ice cream — CrimCinnamon. Created when the University celebrated its 150th anniversary, the red and white swirl ice cream will be available on the Community Commons east patio from noon to 4:30, with a limit of 300 servings.
To learn more about the projects featured on 1Day4DU and to support an initiative that is important to you, please click here.