Solving the Challenge of a Lifetime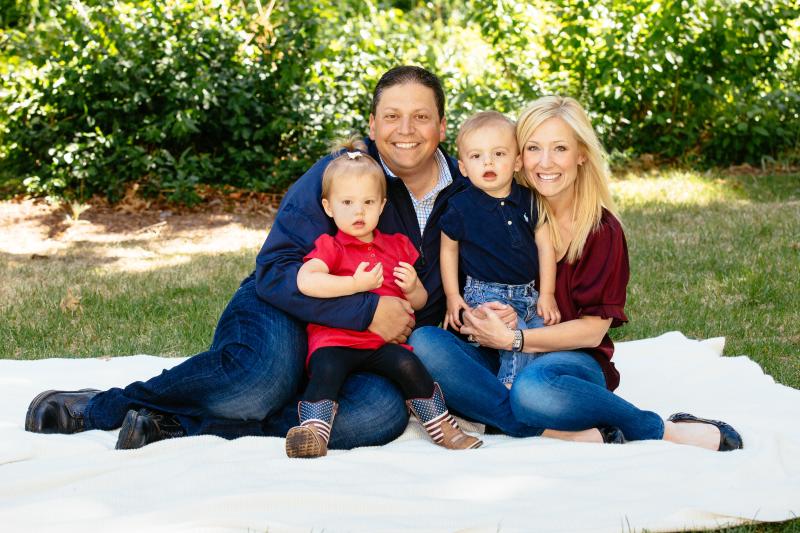 When Amber Freed (MACC '04) graduated from Daniels College of Business at DU, she knew her education had prepared her for an exciting career in finance. What she didn't expect was how well it would prepare her for her life's work: fighting for her son's life.
In 2018, Amber and her husband, Mark, had noticed that their son, Maxwell, was not achieving the same milestones as his twin sister, Riley. He didn't reach for toys or use his hands to grasp. After extensive genetic testing, the Denver couple received news of their 16-month-old son's diagnosis: SLC6A1. So rare that it doesn't have a name and is referred to by the affected gene, the disease causes developmental delay and the onset of debilitating epilepsy by age 3 or 4, as Amber describes. Time was of the essence – Maxwell needed treatment before that stage to prevent irreversible neurological damage.
The problem was that no treatment for SLC6A1 yet existed. Amber decided to help create it.
Amber was working as an equity analyst at Janus Henderson Investors at the time of her son's diagnosis, and she quit her job the day she heard the news. She would dedicate her energy full time to finding the solution — gene replacement therapy — for Maxwell and other children with SLC6A1. Since that time, she says she has devoted 80 hours per week to networking with scientists, physicians, and pharmaceutical companies, in addition to caring for her twin children and providing multiple therapies for Maxwell.
Solving big social issues, Amber says, is a skill she learned during her time at the University of Denver. A member of the Pioneer Leadership Program, she was drawn to DU because of its high values and mission, as well as the way the University pulls students together. She came from a life of poverty in Pueblo — about two hours south of Denver — with little parental support. She knew education was the key to making a better life for herself.
At DU, Amber found a community of people who would take her under their wing and help her manage life's challenges and solve problems along her educational journey. She emerged from DU with an understanding that the way to change the world is by solving a huge societal issue. She says finding a cure for Maxwell — and others affected by the same genetic disease — is the most consequential challenge of her life.
"Throughout my education at DU, in addition to my major, DU supplied me with the tools to teach me how to think and how to solve a problem by bringing key stakeholders together, while using the highest moral integrity to do so," Amber says. "Even though accounting was my major, with Maxwell's diagnosis I was forced to become an expert in microbiology overnight. The holistic DU experience is what separates DU from everyone else. This isn't a path that I would have expected, but DU prepared me to do it."
Working with Dr. Steven Gray at the University of Texas Southwestern Medical Center in Dallas, Amber says she is about to set the record for fastest time from newly discovered disease to curative treatment. She is in the process of raising $4 million to fund the research and clinical trials for SLC6A1.
This treatment is Maxwell's only chance at life, and in her advocacy, Amber feels she is speaking for all the children with SLC6A1 who don't have a voice. The treatment itself, she says, is once and done: a two-hour process that uses a harmless virus to replace the faulty DNA in the child's body. "It sounds like science fiction," Amber says, "but it's possible today."
The impact for the disease itself will have an effect far beyond her family, Amber says. She and Dr. Gray envision SLC6A1 being a part of a newborn screening panel: babies will be screened and treated before they leave the hospital. Since it's a single treatment that changes the DNA and solves the issue, those babies will never get sick from the disease. Additionally, the treatment approaches of other diseases affected by the same gene would benefit greatly from Dr. Gray's work.
"My dream is for there to never be another child with SLC6A1," Amber says. "I don't want any other family to go through what we are going through."
To the DU community, Amber has one message: Thank you.
"This is every parent's worst nightmare, and the only way to solve it is through collective effort of knowledge, resources, and kindness. I've been blown away by DU. I'm so proud to be an alum," she says.
In 2012, Amber was highlighted in the book "Shortcut to Prosperity" as an example of grit. She says a great deal of her grit came from her DU experience. Because of her DU education, Amber says, "something nearly miraculous is coming from a person who really didn't have a chance at life."
Her DU network continues to join her in the journey. Amber's first call for volunteers was on a Pioneer Leadership Program Facebook group. Undergraduate student Brandon Prentice was the first to step forward, offering to use his biology background to help in any way he could. Now he has a role within Amber's organization and is a contributing author on a research paper — a tremendous accomplishment for an undergraduate student. Brandon is about to start medical school at Oakland University William Beaumont, and he has a new vision for his career: curing rare diseases.
"As the director of research for SLC6A1 Connect, I partnered with Amber as she began developing a cure for SLC6A1-related disorders," says Prentice. "Though Amber was already well positioned to undertake such a daunting task, I served as her scientific tour guide as she entered the complex world of medicine. I provided briefings on research articles, defined laboratory tools like recombinant DNA, and acted as a sounding board as she chose what to do next. I am beyond grateful that I had the opportunity to further develop these skills and am even more grateful for the time observing Amber's strengths. She has advocated for those who are suffering, she has displayed compassion, she has overcome setbacks, and she has provided direction for the medical community. Amber is impressive, and I hope to emulate that same vigor as a future physician."  
Amber's fellow accounting major Nat Borchers — of Colorado Rapids and Portland Timbers soccer fame — reached out to his network and obtained signed sports memorabilia for Amber's silent auction. DU's head basketball coach, Rodney Billups, is participating in Amber's upcoming fundraising golf tournament. Those are just a few of her DU connections helping her to solve the problem of a lifetime.
Amber's mission — her tireless work to solve SLC6A1 for Maxwell and other children — is one of hope and progress. Her DU education and her DU network are joining her every step of the way.
To learn more and to follow the journey of Amber and her family, visit www.milestonesformaxwell.org.