"No Better Way" to Spend Law School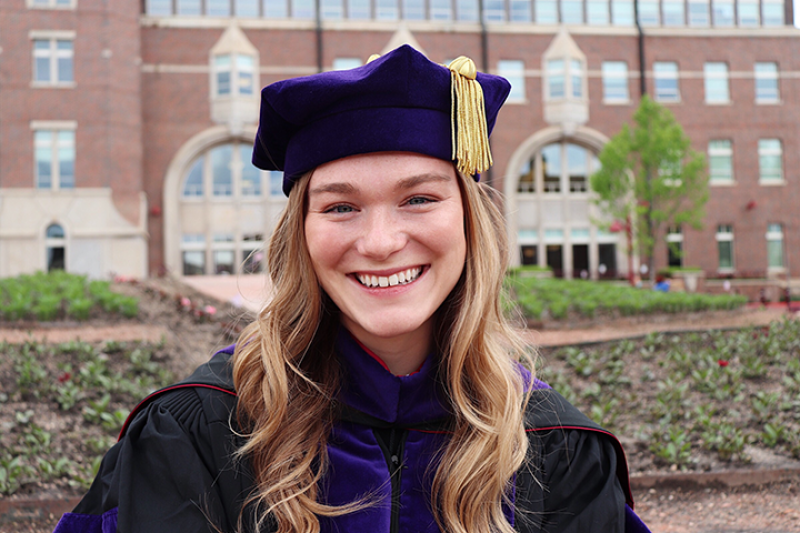 Annika Adams, J.D., DU Sturm College of Law Class of 2021, knew she wanted to pursue a career in civil rights law from an early age.
In high school, she became fascinated with the Supreme Court — particularly one of recent history's most storied members, Ruth Bader Ginsberg — and taught herself about the Court's landmark civil rights cases. An undergrad constitutional law class Adams took at the University of Tennessee confirmed her interest in law and fueled her desire to help people obtain justice.
Adams says DU's Civil Rights Clinic, where she worked as a student attorney doing prisoners' rights litigation, set her on the path she's on today, about to start her dream job as a civil rights attorney.
As a student attorney in the clinic, Adams helped prepare a case to go to federal district court for a jury trial. Her client had been serving a 60-year sentence at a federal supermax prison in Colorado. About 10 years into his sentence, the Supreme Court ruled that one of laws on which he was convicted was written in a way that was unconstitutionally vague. The ruling catalyzed the prisoner's early release, but his release was supervised.
"In this case, supervised release wasn't in the interest of justice," Adams says, noting that based on her client's other convictions, he had already served five years longer than he should have.
Adams says that preparing for the case—drafting direct and cross examinations, conducting supplemental discovery—enabled her to develop skills that will directly translate into her future work as a civil rights attorney.
The highlight of her time as a law student was hearing that the judge granted the motion she wrote to end her client's supervised release. "It was so rewarding to be able to call our client and tell him the news, and it confirmed for me that I was in the right place," Adams says. "There's really no better way I could have spent law school." 
While it was the Civil Rights Clinic that drew Adams to apply to DU, it was the scholarships she received that allowed her to say "yes" to her first-choice law school.
"I knew that I couldn't go to law school without close to a full scholarship," Adams says.
Adams received a Provost Scholarship all three years and was also awarded an Arnold and Porter Endowed Scholarship for her third year, in recognition of her outstanding work in the Civil Rights Clinic.
Adams says she is grateful to all who have contributed to student scholarships.
"Without scholarships, I wouldn't be doing the one thing I have been wanting to do for as long as I can remember," she says.
To learn about how your gift in support of scholarships can make a difference in the lives of students like Annika, contact ScholarshipGiving@DU.edu.