Mentorship Program Builds Skills, Embraces Alumni
The Reiman School of Finance finds success connecting students past and present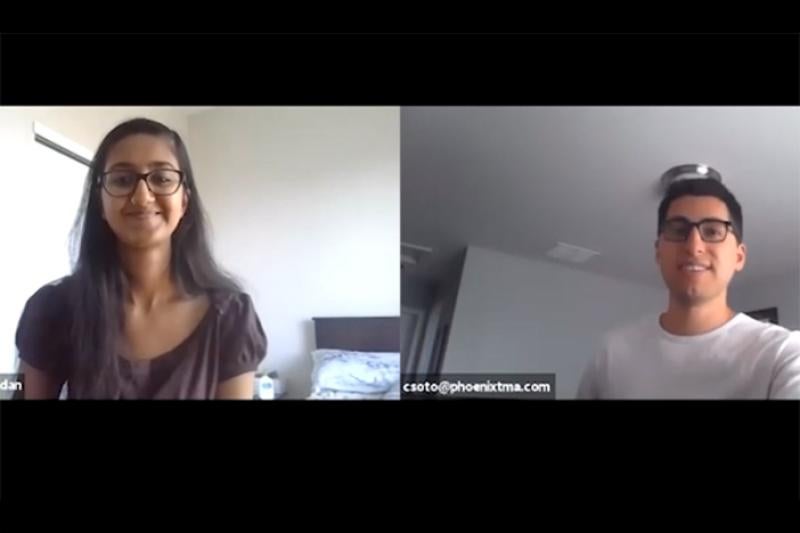 The University of Denver had always summoned fond memories for Arjun Murti, but by 2019, the school that gave him his start in the energy sector was also becoming a distant one.
Physically, too, Murti (BSBA '92) was farther away than ever. His career took him to Goldman Sachs (where he famously predicted a 2005 oil boom) in New York City — 1,600 miles from the Daniels College of Business.
"As my kids got to be college aged, it made me think about what I liked about Denver and what I missed about it," says Murti, a senior advisor at Warburg and Pincus as well as a board director at ConocoPhillips. "It motivated me to get back in touch, and this mentorship program seemed like a good place to start to get more involved again."
For the last three years, that program, through the Reiman School of Finance, has been pairing its alumni with current students for a yearlong relationship that has proved as nurturing as it has nostalgic.
"Year after year, students are really seeing the value of having a mentor who takes a keen interest in their career and their development," says Ann Bowar, Reiman's events and external engagement manager. "I think the benefits for the mentors are just as strong as they are for the students. This is a program that feels really good for them to be a part of and is creating a service mentality where alumni are able to give back and stay involved after they graduate."
Participation in the Reiman program has grown steadily since its creation, doubling from 40 pairings in 2018 to 80 this year. The student-led finance club spearheads the matchmaking, sending surveys to their classmates and alumni. With input from Daniels faculty and staff, they try to match a student's career interests with a professional working in that field.
For Murti, that was part of the appeal. Raising two daughters had heightened his awareness of the gender imbalances in the oil and gas sector. If possible, he wanted to mentor a female interested in energy.
Carolyn Lucca (MS '19), now an alumna, proved to be that person.
"I had so many new experiences and so many questions," says Lucca, a portfolio analyst at Thoroughbred, a land and mineral-rights holding company. "There's the technical stuff you deal with in your job, but there are also a lot of people things when you're in a room and you don't know what to say or how you're supposed to act, the softer skills.
"I was able to reach out to Arjun for advice and input I wouldn't have otherwise sought out," she says. "I think that's been one of the key elements to my success so far — having a mentor I can go to and ask those questions."
Beyond attending opening and closing receptions, the Reiman School places few requirements on its pairings — largely because all sides are usually eager to build a relationship. A series of brief online modules for students sheds light on potential career paths in the finance industry, complemented by a growing number of video interviews with current professionals.
Mentors and mentees are expected to touch base once per quarter, something Lucca and Murti have found even easier to do during a pandemic that has normalized video conferencing, which, in turn, has allowed the program to welcome mentors from across the country and even across the pond in London.
"Throughout my career, I've benefited massively from the mentors I had, starting with my professors at DU," Murti says. "It reminds me of why I liked Denver and got so much out of it when I was there. It isn't just professors talking at you or lecturing you. They always brought a real-world perspective to the classroom."
A hands-on experience is exactly what Bowar says the finance school is trying to cultivate.
"At the end of the day, we want these students to be ready to enter the workforce when they graduate," she says. "The easy way is to say, 'Go to classes each day.' But within our department we feel it's our responsibility to ask, 'How do we bring in the outside world and all of these amazing alumni to make sure a student is ready to walk out of here and start a successful career?'"