FBI Honors Sturm Alumna as Denver's Top Prosecutor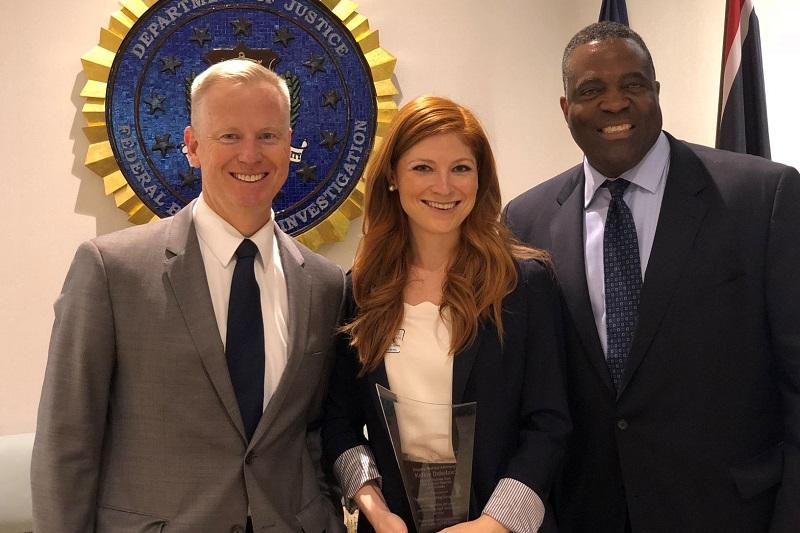 Two-and-a-half years out of law school, Kelley Dziedzic (JD '11) was doing the work typical of any new face in the Arapahoe County District Attorney's office. She spent her days in the county courtroom, prosecuting misdemeanors and DUIs.
And then the email came.
It was an open invitation from her boss, in search of someone sharp, talented and passionate to join the Special Victims Unit.
"It's the unit that draws the worst of the worst," says Dziedzic, a graduate of the Sturm College of Law. Often, SVU handles sex crimes and crimes against children. "It sets that fire in your stomach that that person needs to be stopped," she remembers thinking. "And I'd love to be the person that does that."
With hindsight, applying seems like a natural decision. After all, Dziedzic's career has been full of triumphs. Currently the senior deputy district attorney in Arapahoe County, she was recently named prosecutor of the year by the FBI's Denver office—a nod to her 2017 conviction of Brock Franklin, whose 400-year prison sentence for human trafficking is thought to be the longest in U.S. history.
But in 2014, Dziedzic knew she only had about half the experience needed for the SVU job. Even so, she applied.
"Through either some stroke of genius or madness, [my boss] took someone into the unit who had, give or take, two years of experience," Dziedzic says. "I feel really fortunate because the one thing it did allow me to do was learn from people who I felt and still feel were the absolute best of the best. It's hard to pick up bad habits if the people you're surrounded by are the rock stars of prosecution."
In some ways, the SVU post was the next logical step in Dziedzic's career. During law school, she interned with the Arapahoe County DA, an opportunity that progressed into a part-time job during her final year at Sturm. The day she passed the bar exam was the day she returned with a full-time position.
But in other ways, her promotion seemed unlikely. Dziedzic admits she never felt like someone who was born to be a lawyer, let alone an SVU prosecutor.
Growing up in a small town outside of Knoxville, Dziedzic earned undergraduate degrees in history and political science from the University of Tennessee. And then the recession hit.
The job market didn't look promising and she saw law school as a way both to bide her time and turn her undergraduate lemons into "marginally-profitable lemonade." She asked her uncle, Sturm graduate Howard Kenison (JD '72), for advice.
"One of things he told me was the practice of law is very local," Dziedzic recalls, "so consider strongly the community you want to live in when choosing your law school."
There was no comparison to Denver, Dziedzic says. Access to outdoor activity was surpassed only by access to a number of major district attorney's offices where she could gain experience. And she still feels supported by the on-campus community she found with her classmates and professors.
"When you've put that much time and paid a not-insignificant amount of money to get that degree, to be able then to have had a school that gave you the ability to build those relationships and parlay it into … hitting the ground running, it's actually really rare," she says.
Rare, too, was Dziedzic's work on the Franklin case, prosecuting a man who used drugs and violence to control the children he forced into a sex trafficking ring. In many similar cases, the victims often recant or recoil from the public eye — forget appearing before a judge and jury.
But Dziedzic spent years developing relationships with the victims, building their trust. As a result, eight of nine victims took the stand and testified against Franklin.
Leora Joseph, who promoted Dziedzic to the SVU, despite her relative lack of experience, couldn't be prouder. She credits Dziedzic with an ability to connect with people, victims in particular. And beneath Dziedzic's raw talent and work ethic, Joseph says she saw a willingness to learn and a drive to improve.
"It's very easy to be motivated by 'television's closing arguments,'" Joseph says, referencing the popularity of courtroom dramas like "Law & Order." "They are really fun, passionate moments and are fun to watch. But that's not real life. Real life is that you're so passionate about something that you're going to work really hard, and that's something that Kelley was always really good at. It means understanding facts and people and the law and using all of those things in a skilled way in order to be an advocate."
For Dziedzic, advocacy is what the FBI honor is all about.
"It could have gone to people who prosecuted a series of armed robberies at banks or serious economic crime or maybe took down a big international drug syndicate," she says of the award. "The fact that it was recognized for work in human trafficking I think is really special.
"For a really long time, I think there was this attitude of 'criminal justice is a matter of resources, so do we spend our resources on this type of victim?'" she adds. "And for there now to be that recognition that these are cases that are so worth our time, attention and resources, that's a real turning point."