DU Alumna Creates Sanctuary for Chimpanzees in Liberia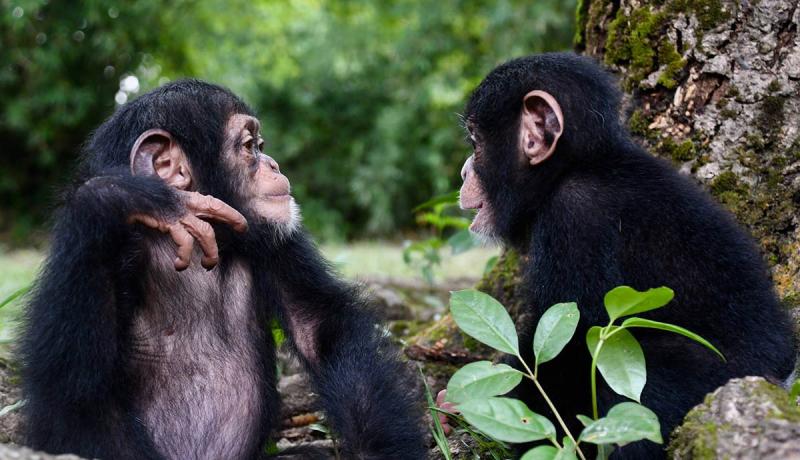 At age 2, Matooke saw his family slain in Uganda. With the murders imprinted in his mind, and nowhere to go, he met Jenny Desmond, a University of Denver alumna from the Graduate School of Social Work.
Matooke is a chimpanzee, the first of hundreds that Jenny would rescue. But his trauma, Jenny says, mimics the trauma people experience. After months of love and care, Matooke was integrated into a rescued chimpanzee family at the Uganda Wildlife Conservation Education Centre.
"He was severely traumatized. He lost almost all of his hair. He wouldn't let anyone touch him," she recalls. "I'm doing clinical work, just with a different species."
Soon after, Jenny and her husband, Jimmy Desmond, returned to the United States, but those poignant moments from 2000 haunted them.
And in 2016, they launched Liberia Chimpanzee Rescue & Protection, the country's only chimpanzee rescue center. The Desmonds have their own Hundred Acre Wood – land leased from the local community.
Their move didn't surprise Jenny's family.
She not only loved animals since childhood; she thought she was one.
"She was a lion for about a year," says her father, Joe Zaccaro. "There was something about her. She just had this connection with the animal world."
Zaccaro, who worked in human resources, notices people's behaviors. Decades ago, he watched his oldest daughter develop an animal-like intuition.
Kathy Schmidt, her younger sister, recalls a time when Jenny came home on roller skates.
"She was skating around with two kittens. She was holding them together with a shoelace around her neck," Schmidt remembers. "There were always some animals that needed to be taken care of."
Caring for chimpanzees is a family affair, as Zaccaro and Schmidt help run LCRP from Denver.
From kittens and puppies to Earth's more exotic animals, Jenny made all animals a part of her family. She learned all about Jane Goodall, renowned primatologist and anthropologist.
She contemplated going to veterinary school. And while a plethora of possibilities crossed her mind, social work won out. Intent on helping traumatized children, she earned a bachelor's degree from Colorado State University. Then a new educational opportunity caught her eye – a chance to earn an MSW at DU in only a year with the Advanced-Standing MSW Program.
"I started my journey there [DU]. It was fantastic. I think at the end of the year, I was wishing it was another year," she says.
Jenny took a variety of jobs in the non-profit sector. Through it all, her dedication to the public good remained. But ultimately, a love for animals led her and her wildlife veterinarian husband back to Africa.
After successfully rehabilitating wild animals in Kenya, Uganda and the Democratic Republic of the Congo, they received a new assignment.
The Desmonds, alongside a coalition of animal welfare organizations, went to Liberia equipped with a mission: Rescue chimpanzees who had been used as medical research subjects. The chimpanzees had been abandoned during the Ebola outbreak by the organization that had conducted the research on them, the New York Blood Center.
Within the first five weeks, Jenny and Jimmy received two orphaned chimpanzees, victims of the illegal bushmeat and pet trades. Five weeks became a year, and a year grew into a lifetime commitment.
"We were originally trying to get those two out of here," Jenny says. "After getting so many more, we realized there are no organizations to do this. Where will they go? We can't just keep shipping them out of here."
And so they stayed not only to care for the orphans, but also to address the root causes to stop the killing. What started with two or three chimpanzees has expanded to more than 70.
And the 87-year-old Goodall, Jenny's longtime hero, now knows her younger counterpart and admires her work in return.
The Desmonds, like parents of newborns, don't get much sleep. In the wild, baby chimps sleep with their mothers in a nest until the age of 4 or 5. The orphans sleep with their human caregivers to replicate that natural behavior. And, like human children yearning for attention, the chimpanzees get up about 5 a.m.
Jenny's role with LCRP is multi-faceted. From raising chimpanzees to raising funds, Jenny and a team of community members work to improve the lives of chimpanzees in Liberia.
The most rewarding part for Jenny and the staff is watching the chimps transform into "secure little people."
"We are making great strides in the conservation of chimps in the country and the region," Jenny says. "We are working in Liberia and West Africa to support conservation efforts. The government is now prosecuting wildlife crimes. We are working with partners to protect wildlife, develop wildlife task forces and implement policies impacting chimpanzees."
On a macro level, Jenny isn't just protecting chimpanzees; she's protecting humans too.
"Ultimately, we will pay the price. We cannot maintain the Earth at the speed with which we are destroying it. If we wipe out chimps, we are wiping out habitats, biodiversity and ultimately wiping out ourselves."