Sturm College of Law alumnus takes over as representative for Colorado's 6th Congressional District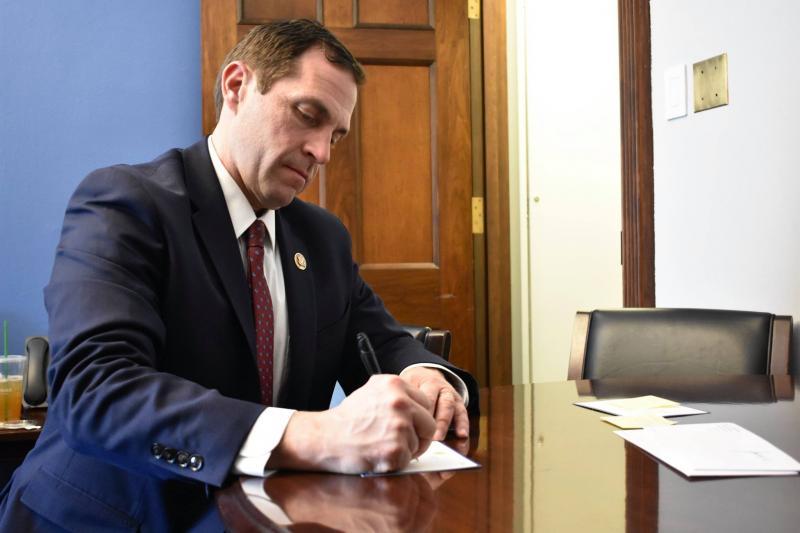 Whether he has been serving his country or assisting fellow veterans, Jason Crow (JD '09) has been dedicated to helping others. Today he's a freshman Congressman, representing Colorado's 6th district in the U.S. House of Representatives, but his passion for service started early in his adult life.
Crow had just graduated from the University of Wisconsin-Madison when the attacks of September 11, 2001 took place. The events he witnessed at home compelled him to enlist in the Army. Crow would eventually become a U.S. Army Ranger. He served three tours of duty in Iraq and Afghanistan, and for his actions in Iraq, he was awarded the Bronze Star. After four years in the military, Crow searched for new ways to serve his country and community.
"I had a lot of experience with lack of rule of law in places where I fought and knew that one thing that makes our country really special is our commitment to rule of law and our justice system," Crow says. "I wanted to be part of it, so going to law school made a lot of sense to me."
While serving in Afghanistan, Crow was already preparing for law school. During rocket attacks, his platoon would have to sit in a bunker and wait until the attacks ended. Crow would use this time to study for the Law School Admission Test (LSAT).
His wife is a fourth-generation Coloradan, so the couple decided to move to Denver. Crow quickly determined that the Sturm College of Law was the perfect fit for his aspirations.
"I was really attracted to the clinical programs and the practical-based education that the law school offered," he says. "The school does a great job of combining the academic aspects of law with the practical aspects of law and providing lots of opportunities for internships and real-life experiences."
Even while pursuing his law degree, Crow was driven to help fellow veterans. He says the transition from military service back into school life was challenging — for himself and and for many other veterans. He recalls one student asking him, "'What are rangers doing in the Army; I thought they just worked in national parks.'"
"There is a very large divide between our military and our veterans and the civilians that they serve," he says. "For over a decade now, I've been working hard to close that divide."
Crow served on the Colorado Board of Veterans Affairs and received multiple awards for his work. At the same time, he was growing into his role as a lawyer at Denver-based Holland & Hart. Crow was named one of Denver's 40 under 40 by the Denver Business Journal and a Colorado Super Lawyers Rising Star.
But even as his star was rising, that calling to serve persisted.  Crow believed that decisions being made in Washington, D.C., ran counter to the values he fought for in the military. He thought the country was in need of a new style of leadership and a new generation of leaders.
"I served with people of every background, every race, every ethnicity, every religion, every political affiliation. We did something that was uniquely American and that was focus more on what we have in common — our shared values and our shared mission. We came together as a team, and we became brothers and sisters during that time and that has forever left an impression on me," Crow says. "I know that is the type of leadership and that is the approach our country needs right now — leadership that can help us focus on those things that unite us and what we have in common more than our differences."
In January 2019, after defeating longtime Congressman Mike Coffman in November, Crow moved to the nation's capital to represent Colorado's 6th Congressional District. Elected as a Democrat, one of his first actions in Congress was to vote against Nancy Pelosi as speaker of the House, upholding a campaign promise to foster cultural change within leadership in Washington.
Although the number of military veterans serving in Washington continues to drop, the 116th Congress boasts the largest class of freshmen veteran lawmakers in a decade. Nearly half of the veterans' caucus served in the military after 2000. Crow hopes that their efforts will one day take over the headlines coming out of Washington.
"I'm struck by this group of young veterans — both Republicans and Democrats," he says. "We are focusing very hard on coming together as a group and finding ways that we can work together, and we can restore some bipartisanship. That does not mean that we always agree, because certainly we disagree a fair amount on certain things. However, we have an obligation to figure out where we can work together and how we can move the country forward, and I think this group of veterans has that commitment."