Alumni Build Music Education into Underfunded Schools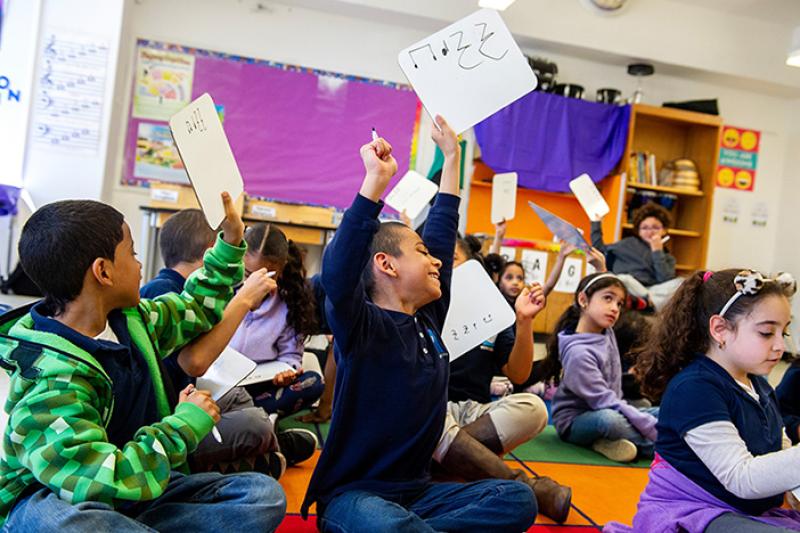 The keys of the piano plunked Mallory Bernstein from White Plains, New York, to Fairbanks, Alaska, to Denver, Colorado. Performing was her passion, and she traveled the country polishing her repertoire, picking up academic degrees as she went.
In Denver, however, performing outreach in elementary schools, Bernstein began to change her tune — and ultimately, her career path.
"I was really, really moved by these experiences," says Bernstein (CRTG '12), who earned a performance certificate and artist's diploma from the University of Denver's Lamont School of Music. "It was very powerful to be in an elementary school classroom where, oftentimes, these rehearsals were totally elective, at 7:30 a.m., and kids were walking [to school] just so they could participate in these brief but very meaningful musical experiences."
To this point, Bernstein had been a persistent performer, making her living at the piano — either on stage, in a recording studio or by teaching lessons.
But the more she worked in schools as an accompanist, the more she saw a need for high-quality music education. By creating her own branch of a New York-based nonprofit, Education Through Music, she realized she could help provide it.
"Unfortunately, when budgets are tight, music programs are often cut," Bernstein says. "There's so much pressure [to raise] standardized test scores. … But I am so excited that Education Through Music Colorado is here to make music education more equitable and accessible."
In 1991, the original Education Through Music nonprofit began aiding schools that lacked the resources to teach the arts. After discussing the idea with local educators, Bernstein established and became executive director of her own chapter in 2019. What began as a two-school pilot program serving 600 students has quadrupled. Now, in its third year, ETM-Colorado reaches nearly 2,500 students through partnerships with eight Title I elementary schools in Denver.
"The study of music is incredibly important for students because it provides an outlet for them to express their feelings and feel connected to their peers," Bernstein says, noting many students carry trauma from the COVID-19 pandemic and rocky home environments. "It's so important for them to find opportunities to feel joyful and inspired. The study of music also helps to develop self-confidence, provides motivation for school, supports learning in other areas and sets these kids up to be more successful."
According to research cited by ETM, quality music education has been linked with the development of self-control, planning, verbal intelligence, focus, problem solving and multitasking. Surveys conducted by the New York nonprofit show its programming has aided social development, inspired new friendships, provided safe relationships with teachers and encouraged attendance at school.
ETM builds those skills by incorporating itself into a school's regular rotation of learning — complementing lesson plans from other subjects. Some Denver third graders, for example, took a poem they'd written and set it to music.
The key to building successful programming, Bernstein says, is supporting the people she hires. Through mentoring, coaching and professional development, ETM-Colorado intends to equip its teachers to join a school's staff full time, constructing a long-lasting foundation of music education.
People like Don Sicard are working to make ETM-Colorado's work financially sustainable. An alumnus of the Daniels College of Business, Sicard (BSBA '82) sits on the nonprofit's board of directors.
"I really do believe there's a very strong connection between arts, music and other academics in terms of how you create a well-rounded education for a student," he says.
Sicard himself was a decent student, he says, but music was always his favorite subject in school — and it enhanced his performance in other subjects. He kept up with it through college and, as an alumnus seeking help from Lamont to find a new piano instructor, he discovered Bernstein. When she told him about her plans to launch ETM-Colorado, Sicard quickly jumped onboard.
"I personally have benefited from having art and music in my life," he says. The way he reviews a contract in the business world, for instance, is similar to the way he marks a piano score.
Teaming with another DU grad is one way Sicard feels he can give back to the institution that has offered him so much support over the years. Sicard and his wife, Debbie, also sponsor a scholarship at Lamont.
In the year ahead, Sicard and Bernstein aim to secure additional funding so they may spread their programming to more schools. To make that possible, ETM-Colorado has expanded its board from five members to 14, taking the opportunity to increase diversity within its ranks to reflect the students it serves.
"I'm so excited by the impact ETM-Colorado's programming is making in a short amount of time," Bernstein says. "I hope that music will become a lifelong love for many of our students, whether it's as a performer or an audience member or a tool to engage with their communities.
"Our programming is not to support or develop prodigies by any means," she adds. "This is really about giving kids a well-rounded and excellent education."