Alumna Fashions a New Style of Arts Education
Skye Barker Maa's network of companies offers theater, music, photography and more
Profile
•
News
•
Feature
•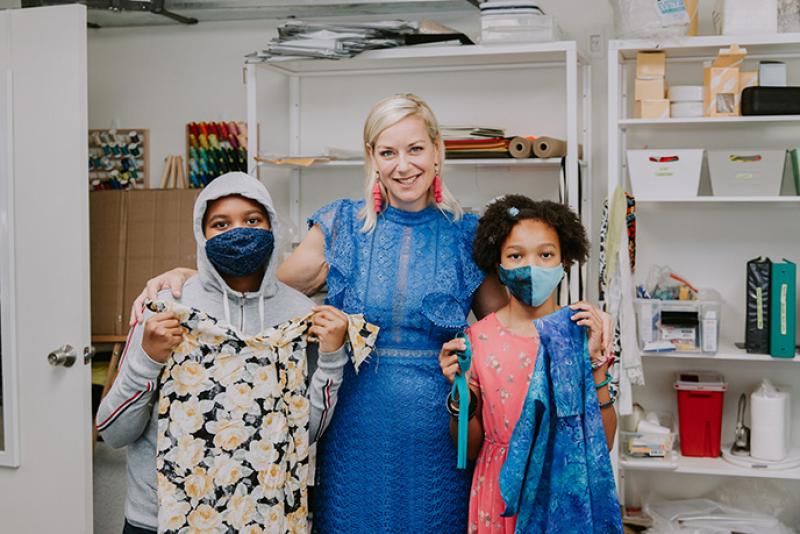 Harry Potter has his "Room of Requirement," a space at Hogwarts that transforms into whatever he needs it to be. Skye Barker Maa has Factory Five Five.
At 10255 E. 25th Ave. in Aurora, the computer lab is also the tap dance studio. The dressing room holds props. The prop room stores pieces of stage scenery. The box office is a space for private acting lessons. The owner's office is full of theatrical costumes.
"I'm doing a lot of quick changes between shows and work and interviews," explains Barker Maa (MBA '09).
Understandably so. All told, the University of Denver graduate leads seven ventures, including two bars, a music school, a dance company and now Factory Five Five, the fashion, film, photography and theater company.
The name is a blend of the site's address and a tip of the cap to Andy Warhol, whose New York City studio was known as "The Factory."
"[Warhol] had these brilliant women around him creating art who didn't really get the nod he got because of the day and time." The idea behind Factory Five Five is to have a place where people can create art together and hang out, Barker Maa says.
Inside the unassuming industrial building, aspiring actors, directors and fashion designers of all ages can transform their ideas into "whatever your heart interprets as art." Additional space at the nearby Stanley Marketplace offers artists room to stretch out and collaborate, using industrial machines.
Barker Maa doesn't know how to sew or play an instrument. She's never taken a music lesson. Other than a brief, teenage stint as Janet in The Rocky Horror Picture Show, she's avoided the stage. But over the years, with her Daniels College of Business Executive MBA in hand, she has built a small empire of companies devoted to furthering arts education.
"The MBA was the ticket to feel comfortable to do it and to understand I could do it," Barker Maa says. "It started at DU. I was on a very corporate path and was happy climbing that corporate ladder. [DU] was a lightning bolt that hit my tree and split it in two and it suddenly had all these paths."
Her journey in Denver began as a college student, where she earned a degree in English language and literature and dreamed of becoming a writer, at least at first.
"I did everything to put myself through college," she says, from waiting tables to working in the cage at a taxi company. "There was no quitting to become a starving artist after that. It sounds romantic, but not after you've worked four jobs to put yourself through college. Based on this experience, I've made it my mission to make sure artists have livable wages."
Instead, Barker Maa dabbled in sales, politics and community outreach. Her experience starting a small business pushed her toward DU's MBA program, where she hoped to learn more about finances and hone her leadership skills.
The curriculum also renewed her confidence and comfort in taking risks. Case in point: In 2012, she created Neighborhood Music & Theater out of her home. She wanted her 3-year-old son to take piano lessons but couldn't find a teacher. Plus, recognizing his sensory sensitivities and attention deficit disorder, Barker Maa wanted to give him a more comprehensive experience.
"I'm always thinking about how different people process information," she says. "It's important that we're appealing to whatever sense it is that you're dominant in. You need to hear it, touch it, smell it, feel it, go do it. The arts are all about reaching people and reaching inside people, so we need to see what's inside you."
Inside Barker Maa's house, Neighborhood Music composed a scene of controlled chaos. Nearly every room in the house hosted a music lesson or band practice. Teachers and students came and went all night. Children produced plays in the backyard.
"I feel like we're building better humans," she says. "One percent of our students will go to Julliard or become a concert pianist. But all of our students will be able to do something on stage. It's a public speaking skill to get up there and execute in a stressful environment and have the joy of execution."
After a few years, the home became too stressful and too small to hold Neighborhood Music. The need for a larger space was inevitable. Barker Maa turned to fellow graduate Mark Shaker (MBA '11), founder and owner of Stanley Marketplace. The pair had met years earlier through a mutual Daniels mentor — one of more than a dozen EMBA affiliates who have touched Stanley as a tenant, investor or advisor. Immediately, Shaker says, Barker Maa fit right in.
"She's constantly brainstorming, constantly looking for things to do that not only enhance her business, but enhance the whole marketplace," he says. "We're always willing to give her an avenue to develop a new concept. She is by far the most prolific Stanley business owner that we have."
Barker Maa's most recent idea, Factory Five Five, quickly found its place at Stanley too, necessitated by the distancing requirements that came with the COVID-19 pandemic.
"We had to take the space, or we had to decrease our programming. So we took the leap," Barker Maa says. So far, it seems to be worth it. "Everything's taking off right now. We're a snowball rocketing down the mountain, and things keep coming."
Barker Maa equates it to some of the political campaigns she worked on earlier in her career, putting in long hours for a long time. It's not uncommon to find the founder painting the stage or doing dishes early on a Saturday, in addition to negotiating contracts and performing other executive tasks. But, she says, she can't stop now.
Her passion comes through watching a director control the room during a reading of Metamorphoses, scheduled to debut in June. Or the way the actors get into character and devour a script. Or designing the three small swimming pools required to pull off the immersive show in Stanley Marketplace.
"It's going to be so hard, but it's going to be so cool, and there's so much electric energy all around that," Barker Maa says. "That's why I do it. It's addictive."