Alum Helps Make Soccer Accessible for Aurora Kids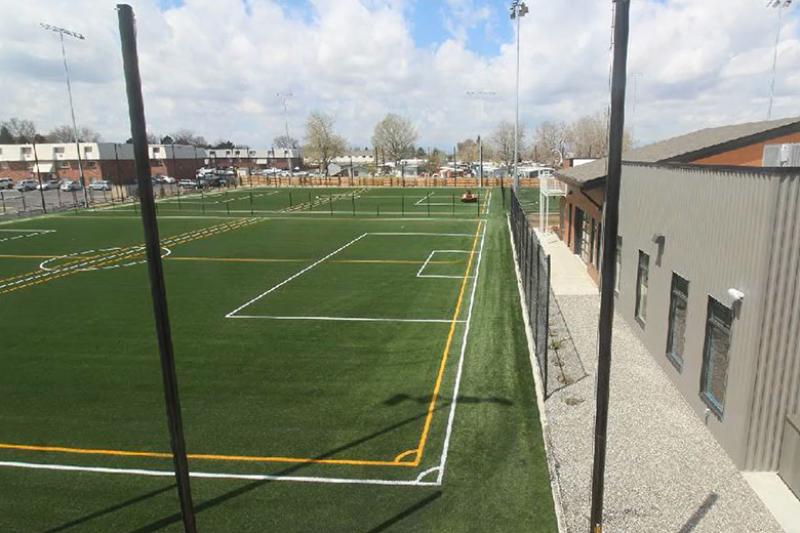 If writer and self-described sage Malcolm Gladwell is right, 10,000 hours of practice will make you a world-class soccer player. If James Davies is right, kids in the United States are getting nowhere close to that number.
"Their parents spend a lot of money," Davies (EMBA '18) says of players who want to go pro, "[and] they go to all of these advanced trainings with super advanced coaches, but they never get more than about 4,000 hours, I calculated, by the time they're 18. So they're only halfway."
Growing up in England, Davies picked up many hours playing in the park, where kids created their own games and structure. It's a practice he'd like to recreate for players across the state of Colorado. As a board member of the Colorado Soccer Foundation, Davies, a Daniels College of Business alumnus, is playing a leading role in the creation of Soccer City Aurora — a multifield complex under construction near the intersection of East Colfax Avenue and Chambers Road, scheduled to open this spring.
At Soccer City Aurora, players will find five lighted turf fields of varying sizes, other kids to play with and an opportunity to start the pick-up games that are commonplace in the rest of the world.
"Youth-level soccer in this country is dominated by a middle-class audience, which often contrasts with the situation in other parts of the world," Davies says. "Players learn through structured practices with coaches. Those can be expensive, and the further you go in the game, the more of a financial burden it becomes. There's a disincentive here for the kids who have talent and potential to go further in the game, as frequently they are the ones who are unable to afford the highest level of coaching. While suburban Denver neighborhoods are full of beautiful but empty soccer fields, there are areas of the city with great players who currently have nowhere to 'hang out' with the game, in a traditional, unstructured environment."
Under Soccer City's model, kids and families chip in a low, need-based annual fee, which provides unlimited access to the site. Financial assistance is available. The idea is to make the fields — and the safe environment that comes with them — as accessible as possible.
Davies has long been involved in the local soccer scene, but his work with Soccer City Aurora springs directly from his time on the University of Denver campus. All students in the Daniels Executive MBA program take on a social impact project. When Aurora's Skyline Soccer Club pitched its work to the cohort, Davies hopped on board. Fellow alumnus Andy Stine (EMBA '14) facilitated Davies' project.
That work paved the way for his role at the Colorado Soccer Foundation, where he could build on his experience constructing an indoor, multifield facility in Lafayette to benefit a fledgling nonprofit. If it finds success, the Colorado Soccer Foundation hopes to expand its model to other communities across the state.
Davies credits the EMBA program for providing the hands-on learning that helped prepare him for this project, as well as the emphasis on collaborating with members of the local community.
"Our goal is that this will become one of these pillars of the community that people use every day," he says. "I think that's the most exciting thing: seeing not just the kids but the adults taking pride in the new facilities and integrating them into their lives, benefiting the local area, but also the global game. For me, that's the biggest reward."