Philanthropy in 2023 Builds a Future of Innovation at DU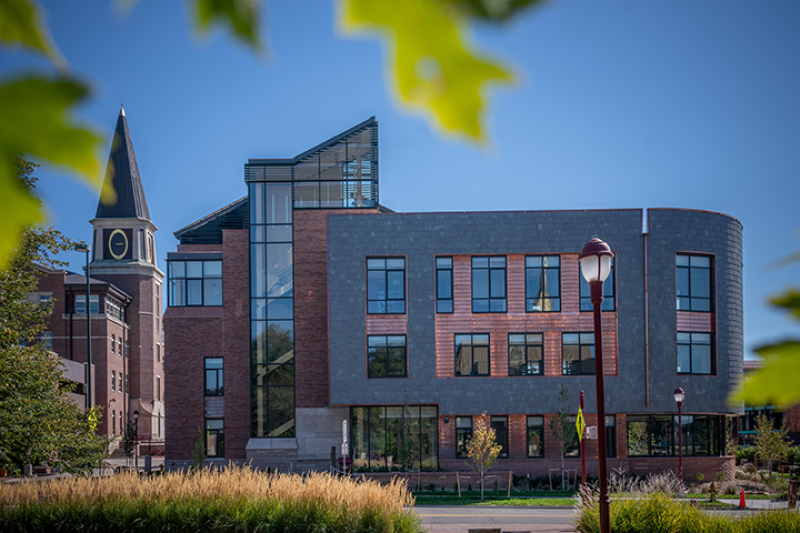 Alumni, parents, friends, faculty and staff of the University of Denver gave philanthropically to bolster the future of collaboration and innovation at DU during fiscal year 2023, which ended in June. This year, DU closed a record number of gifts of $1 million or greater, including the highest dollar total in those gifts in support of scholarships, the Kennedy Mountain Campus, the Lamont School of Music, Leadership in the Outdoor Recreation Industry, Mental Health in Rural Schools, the Graduate Tax Program, and gifts of artwork, among other priorities. 
The year included more than 14,000 gifts, lifting the total raised to almost $63 million, demonstrating donors' strong belief in the University's continued upward trajectory. Through a broad spectrum of giving – enhancing priorities across our two campuses – donors supported DU's people, programs, and places with a visionary impact on the University's future. 
"The gifts from our community over the past year serve as a remarkable vote of confidence in the future of DU," says Chancellor Jeremy Haefner. "That generosity fuels our mission. At DU, we are building on our legacy of educational excellence by reimagining what it means to be a top-tier university, producing impactful research, and offering a holistic, 4D Experience for all students. We are creating a bold and enduring future for DU and our stakeholders, but most importantly for our students who will use their education to change the world. In this work, the involvement of our alumni and donors is critical." 
The People of DU 
Donors' investment in people will have lasting effects on faculty research and teaching and on the educational experience of our students as they prepare for meaningful lives and careers past graduation.  
Investments in faculty fuel thought leadership and action in the classroom, in research, and in our communities. Such gifts advance the University's commitment to faculty excellence by attracting the best minds in their fields to DU and by supporting their growth while they are here. Everett Anton "Tony" Singer (BA Art '70) invested in students by making a legacy gift establishing the Everett Anton Singer Endowed Professorship in Art in DU's College of Arts, Humanities and Social Sciences. In DU's Josef Korbel School of International Studies, Venezuelan economist Francisco Rodríguez joined the faculty as the first full-time occupant of the Rice Family Endowed Professor of Practice. That professorship was established by former United States Secretary of State Condoleezza Rice (BA '74, PhD '81, Hon. PhD '96) to honor her parents, Rev. John Wesley Rice Jr. and Angelena Rice. An anonymous gift provided funding for Sturm College of Law professor Catherine Smith to co-found the Consortium for the Advancement of Children's Constitutional Rights. In partnership with faculty members in the consortium, she is leading the research and action that will elevate the importance of children's rights in the laws of our country. 
Gifts in support of the people of DU also include funding for scholarships and fellowships, which open the door for DU students to pursue their dreams of academic and career excellence. The inaugural Daniels Alumni Advisory Board Scholarship was awarded to a graduate student in 2022; this newly endowed fund was crowdsourced from the Daniels Alumni Advisory Board and other alumni. It offers students in Daniels College of Business professional development opportunities that bolster their career readiness. The Nathanson Fellows Program, a partnership between the Korbel School and the Aspen Institute, challenges tomorrow's leaders to think critically about and propose solutions to the major challenges facing the United States and the world. Scholarships established by Dan and Beth Whittemore provide support for students with Indigenous backgrounds in Daniels College of Business and Sturm College of Law. Gifts to the Murray Armstrong Men's Hockey Student-Athlete Enhancement Fund honor longtime DU Head Coach Murray Armstrong and enhance the championship-level resources provided to our hockey student-athletes in perpetuity, ensuring that the Pioneers continue to excel on the national stage.
The Programs of DU 
Across the DU campus, programs led by our faculty members enhance the human condition. Innovation fueled by investments in programs changes our world: by leading interdisciplinary innovation, supporting first-generation students as they thrive at DU, providing mental health services in the community, and more.  
Visionary funding for the Institute for Animal Sentience and Protection will foster interdisciplinary research and action between Sturm College of Law's Animal Law Program and the Graduate School of Social Work. The VF Foundation's transformational investment in outdoor leadership training established the Leadership in Outdoor Recreation Industry program, which offers coursework in the Daniels College of Business, Sturm College of Law and Korbel School for individuals preparing to lead in the outdoor industry. Funding from Caring for Colorado Foundation helps the Center for Rural School Health & Education to continue supporting rural schools in promoting mental health and wellbeing for students and educators. 
The Family Support Clinic, launched through a generous grant from Caring for Denver Foundation, is a new clinic in the Graduate School of Professional Psychology's Trauma and Disaster Recovery Clinic. It offers critical services to parents of young individuals who are going through traumatic mental health experiences. An anonymous $10 million gift is strengthening first-generation students' support network during their years at DU. Gifts to the Knoebel Institute for Healthy Aging provide graduate student support as well as funding for equipment and other priorities that advance the Institute's interdisciplinary research on Alzheimer's and related disease. 
A generous estate gift from Frederick S. Pardee built on his legacy in founding the Pardee Center for International Futures. The additional endowment will deepen the expertise and capacity of Korbel's unique and highly regarded center to produce cutting-edge research for both academic audiences and policymakers. 
At DU, community creates progress. Gifts of all sizes make possible the innovation and collaboration that are hallmarks of DU. The power of collaborative giving can be seen acutely in 1DAY4DU, the University's annual day of giving that raised more than $1.2 million for initiatives that have an immediate impact on our students' lives. 
The Michael McGoldrick Matching Gift Campaign raised $4 million from donors across the DU community to benefit the Lamont School of Music. Made possible through a generous bequest by Michael McGoldrick, a long-time member of the Lamont community, the campaign raised funds to enhance faculty excellence and the student experience. 
The Places of DU 
With the addition of the James C. Kennedy Mountain Campus, DU has vastly expanded where students can learn, grow, and amplify their unique 4D Experience. This year John (BA '78) and Jacolyn Bucksbaum (P '22) advanced the vision of the Kennedy Mountain Campus by establishing the John and Jacolyn Bucksbaum Family Outdoor Gateway with a gift of $2.5 million. As the launching point for hiking, climbing, and other outdoor activities, the Bucksbaum Outdoor Gateway opens the door to adventure for all students. 
"We are grateful for the generosity of our community over the past year," says Val Otten, senior vice chancellor for Advancement. "The many donors who have invested in the people, programs, and places of our University are helping to build the future of DU, both for our students and for our world."