DU Soccer Standout Hoping to Continue His Success in the MLS
Andre Shinyashiki will graduate in June with a degree in business marketing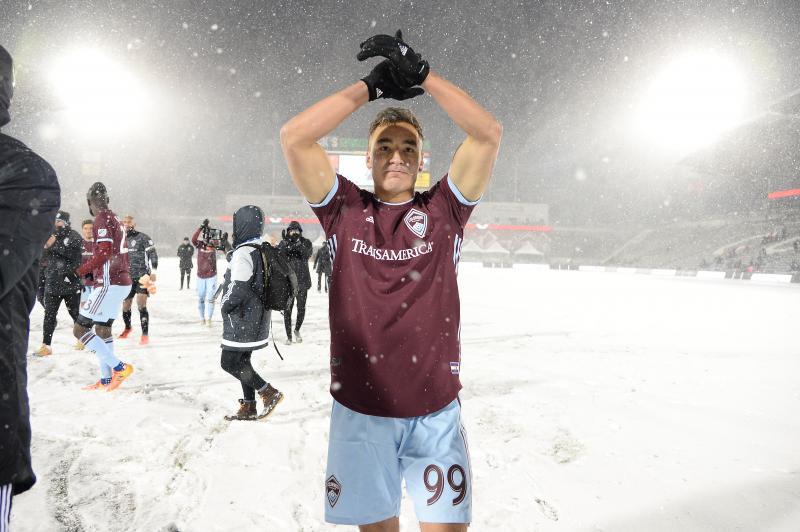 They're not the conditions you'd ever expect for a Major League Soccer match — four inches of snow on the ground and temperatures dropping to 18 degrees. The Colorado Rapids opened the 2019 season on March 2, hosting the Portland Timbers in what became the coldest match in MLS history.
The match was in its final minutes and the Rapids were trailing 3-2. Colorado made a late substitution, bringing in rookie Andre Shinyashiki. It was an auspicious debut for the former Pioneer — one that would have never happened had it not been for an important decision he made four years earlier.
Shinyashiki is from São Paulo, Brazil. After his sophomore year in high school, he left his family and his hometown to attend Montverde Academy in Florida. By the end of his senior year, he was one of the top-ranked high school prospects and was considering returning home and playing professionally.  That's when the University of Denver came calling.
"DU at that time was not a powerhouse for soccer like it is now," Shinyashiki says. "What DU did have was a coaching staff with a great vision of where they were going, and I saw the potential that the school had."
Shinyashiki picked DU over returning to Brazil, and he had an immediate impact on the program. In four years, he never missed a game and was the team's leading scorer each season. His senior season, as captain of the team, was his finest. He ranked first in the country in total points, goals, points per game, goals per game and game-winning goals. However, Shinyashiki is most proud of what the team accomplished during his sophomore year.
"It still hurts to talk about it," he says. "We were so close to winning our first national championship."
Shinyashiki scored the game-winning goal in the final regular season game to cap off the program's second consecutive undefeated regular season. It was the first time in more than 30 years that a college soccer program had accomplished such a feat. The success continued in the postseason as the Pioneers advanced to their first ever College Cup. However, against Wake Forest, their luck ran out and Denver lost in double overtime.
"I think we underestimated how good we were the entire year," he says. "We knew we were a good team, but we didn't realize that we were a national championship contender. I think once we got to the final four, we were just happy to be there. It's not like we were expected to be there."
The Pioneers returned to the NCAA Tournament this year, but were unable to replicate the magic of the 2016 season. Shinyashiki ended his DU soccer career as the most decorated student-athlete in program history. He holds records for most points, goals and game-winning goals.
"I would gladly give up every goal that I scored if it could mean winning a ring," Shinyashiki says. "But it's a great feeling knowing that I leave a legacy that is going to be pretty hard for someone else to break."
His success as a student-athlete did not go unnoticed by the MLS or the Rapids. During the January draft, Colorado traded up from No. 15 to No. 5 so they could take Shinyashiki.
"Staying in Colorado is huge for me because I have a house here; I have friends, I have a great support staff," he says. "I was also happy because I got along with the coaches; I knew the GM really liked me. I was extremely happy because they fit what I wanted for a soccer team."
Which brings us back to the Rapids opener on March 2 and the late substitution bringing Shinyashiki in for his first MLS action. The match was in stoppage time and Colorado was trailing by a goal when DU's all-time leading scorer found himself in the right place at the right time. He knocked in the equalizer in a match that has since been dubbed "Snow Clasico 3."
"It was just amazing, and I still don't have words to describe it," he says. "It was a dream debut for me and a very important moment as a player because I made the statement, 'I am here and I'm not going anywhere.'"
Through the entire process of going pro, practicing and playing with the Rapids, Shinyashiki has continued with his education at the University of Denver. "It was a no-brainer," he says. "I didn't do 3.5 years just to give up on the last half."
This June, he will graduate with a marketing degree from the Daniels College of Business. Shinyashiki sees himself going into sports marketing when his playing days are over. For now, he's focused on improving as a soccer player, knowing that will help the Rapids improve as a team. One person he turns to for help is his former coach. He and DU head coach Jamie Franks first met when Shinyashiki was playing high school soccer in Florida and was recruiting him to come to Denver. The two have been close ever since.
"We have had a very honest relationship. Jamie tells me straight if I am doing something wrong; he tells me what I should be doing," Shinyashiki says. "He still watches the games and tells me what I should be doing. He is really good mentor for me, and I believe we have both done a lot to help each other."