Celebrating Native American Heritage Month with Robert Whitman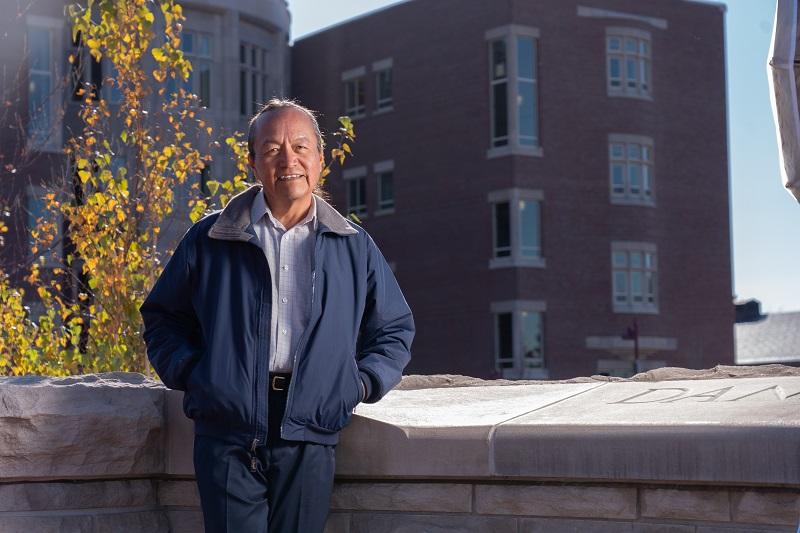 The University of Denver is committed to living our values of diversity and inclusion. We recognize that our community and institutional success is dependent on how well we engage and embrace the rich diversity of our faculty, staff, administrators, students and alumni. With that shared value in mind, throughout this academic year, we will be launching a new series in the Bridge to celebrate cultural and ethnic heritage months. In partnership with Human Resources & Inclusive Community and the Staff of Color Association (SOCA), we will feature a staff or faculty member in recognition of each heritage month, along with an event to celebrate one another and learn about our unique differences.
Travel to the place where old meets new and Robert Whitman will be there to greet you. Throughout his 40 years in the electrical engineering field, the longtime University of Denver faculty member has tightly interwoven technological advances with Native American roots. Look no further than the text-to-speech synthesizer he developed for AT&T, which allowed computer software to recognize and transcribe his native Navajo tongue. It was the first system that "spoke" any Native American language.
Between earning a trio of degrees in electrical engineering, Whitman has sown a fertile environment for other Native professionals, looking to make headway in the homogenized fields of science, technology, engineering and mathematics (STEM). In the 1990s, he served as deputy director of the American Indian Science and Engineering Society (AISES) in Boulder and later tutored students through the University of Colorado's Minority Engineering Program. He still actively engages with STEM students as part of AISES.
In 1998, he joined the DU faculty. Over the last 20 years, he has served as a professor, chair, senior lecturer and director of undergraduate programs in the Daniel Felix Ritchie School of Engineering & Computer Science. In recognition of Native American Heritage Month, Whitman told the DU Newsroom about his cultural background and a lifetime spent balancing ancient tradition with modern technology.
Tell us more about your Native heritage. How do you maintain a connection to your roots?
I am a Navajo (Dine' in our language). I grew up on the Navajo Nation in western New Mexico (Eastern Navajo), near the border town of Gallup. I maintain my connection by listening to and speaking my Navajo language. I often listen to the Navajo language radio station out of Window Rock, Arizona, on the internet. I also try to return home to visit my family in New Mexico twice per year. In these visits home, I get a chance to converse with my mother in Navajo.
What was it like to be a minority student and professional in a STEM field?
In all of my academic experiences in engineering, I was usually the only American Indian. In my years at the University of New Mexico, for a time, there were two American Indian undergraduate students in engineering. In graduate school, I was the only American Indian in engineering. When I received my doctorate, I was informed that I was the first Navajo to receive such a degree in any engineering discipline. In working in my professional job with the IBM Corporation in San Jose, California, I was the only American Indian electrical engineer. A year after I received my undergraduate degree, I joined AISES. This is where I saw and met many American Indian scientists and engineers.
What does the STEM community need to do to boost participation from minorities?
[That's] a hard question. Over my professional career, I have seen very slow increases in minority participation. Today, we have many more mentors for students to ask questions and learn about the opportunities in STEM fields, but there is a certain reluctance to stepping up to the challenge. AISES has done a lot to encourage American Indian young people to pursue studies in STEM. This effort has been through scholarships, mentoring and providing pathways to internships and professional careers.
As I think about your Navajo language text-to-speech synthesizer, I wonder about the role technology has in keeping Native heritage alive — and the challenges it poses for cultural preservation.
I think having a very good text-to-speech (TTS) system could be invaluable for preserving languages. However, technology may also get us away from our traditional ways of knowledge.
How has recognition of the Native American heritage changed over the course of your career?
I think it was more of a change from celebrating Columbus Day to gradually recognizing American Indians. When I was in high school, I had not heard of a Native American month or other recognition of the heritage. In my undergraduate years, I read books about American Indian history, some of which were not pleasant reading. This is how I learned about the American Indian experience with the Spanish, French, British and finally the Americans. Now, November is Native American Heritage Month. I am happy to see how American Indians are finally being portrayed in programs such as those offered on PBS stations.
How can people respectfully celebrate Native American heritage? 
Learn about the "real" American Indian, not those portrayed in Hollywood films. Become more educated about how the American Indian has contributed to the American experience. Some examples of our contributions are: environmental stewardship, U.S. Constitution, laws, astronomy and unbreakable military communication codes in the Choctaw and Navajo languages.
Celebrate Native American History Month with HRIC!