A Message from the Chancellor & the Provost
The mission of Colorado Women's College (CWC) is to "Educate for Equity and Activate Change." On Dec. 16, 2020, Chancellor Haefner and Provost Clark shared news about CWC's future, introducing a new chapter for CWC and its game-changing programs: the Colorado Women's College Leadership Scholars and Equity Labs. 
Questions? Click here to view the FAQs and see a list of upcoming events for the CWC community below. 
Upcoming Events

CWC Institutional Memory & History Event
Join us in a discussion and share-out  about the enduring legacy of the CWC—from its 1888 founding to today. CWC Alumnae are welcome to join University leaders and members from the University's Special Archives who manage the historical CWC memorabilia, photographs, and institutional documents in our care. Please feel welcome to come with your fond stories and memories of your time at CWC to share with the group.

Wednesday, February 3 | 3–4:30 p.m. MST

 

CWC Leadership Scholars Meet & Greet
Join us to learn more about the CWC Leadership Scholars and to meet some of the women in the program.

Monday, February 8 | 4–5 p.m. MST
CWC Program Updates
The University of Denver will continue to support two programs from the Colorado Women's College. The Equity Labs and CWC Women's Leadership Scholars Program will remain active programs within the university. See below for additional updates and details for each program.
Equity Labs

Equity Labs is a diversity, equity, and inclusion program that catalyzes meaningful workplace change. In our online sessions, we work with teams of 15-20 people who are seeking real organizational change. Brave people in bold organizations who want to move the needle – to be and do better.

Please reach out to Magdelana Red, Associate Dean of Programs and Partnerships, if you are interested in learning more:

Magdelana Red

Email: Magdelana.Red@du.edu

Phone: (303) 871-6654

CWC Leadership Scholars Program

The CWC Leadership Scholars program is the modern-day embodiment of the 130-year history of the Colorado Women's College. Committed to continuing CWC's legacy of creating transformative higher educational experiences for women, this program provides academic, community and financial support for up to 15 women-identified, incoming DU undergraduates who identify as first-generation college students and/or students of color.

The CWC Leadership Scholars program creates pathways for CWC alumnae to connect to existing scholars program students through ongoing personal and professional mentoring, volunteerism and traditions. Alumnae have been powerful and engaged contributors to the CWC Leadership Scholars program. So far, we have had alumnae join us in class, on speaker panels, in celebrating our first graduating class and even in the selection of new students to continue the CWC legacy!

We would love to connect with any CWC/TWC alumna who wants to share her expertise and offer her support to the program. Please reach out to Trisha Teig, PhD, Faculty Director, CWC Leadership Scholars or Lauren Contreras, Program Coordinator, if you are interested in learning more:

Trisha Teig, PhD

Email: Trisha.Teig@du.edu

Phone: (303) 871-2456

Lauren Contreras

Email: Lauren.Contreras@du.edu

Phone: 303-871-6115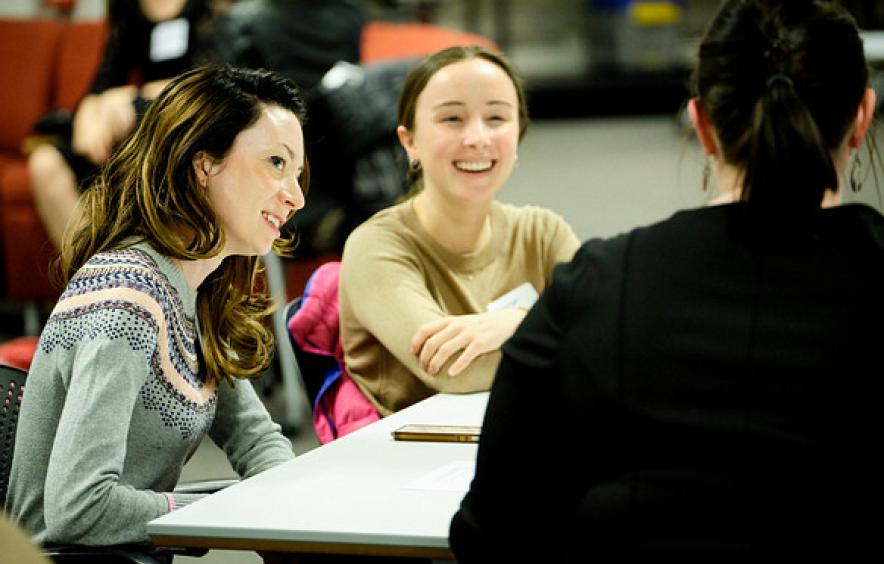 Become a CWC Alumnae Leader
If you are interested in serving as a volunteer leader to continue to strengthen the connection of the CWC community across the country, please reach out to Lindsay Anderson, Executive Director, Regional Advancement & Volunteer Engagement:
Lindsay Anderson
Email: Lindsay.Anderson@du.edu
Support CWC Leadership Scholars Program
Continue your support of the CWC Leadership Scholars Program to help DU provide opportunities for women to become engaged citizens and leaders in all sectors of society. 
Give Now
Update your information
Keep your address and contact info up to date and we will send you the latest updates from your network including CWC alumnae news, events and connections.
Update Now