Everything you need. Nothing you don't.
The University of Denver is always looking for the best ways to serve the specific needs of our alumni. That is why we are developing targeted programs, services and special offers just for recent graduates who graduated within the past three years.
We're thrilled to officially welcome you into the DU alumni network and can't wait to share all the benefits and pride that comes along with your new status. Scroll down to explore the ways DU can help you navigate the newest chapter of your life.
Alumni Career Services

Below you're find a few of the most important career resources to get you started:

Career advising appointments
Alumni career services 
Career job board and recruitment event portal
GoinGlobal and USA Careers
Graduation Outcomes
Networking

Programming

Check back soon for events and opportunities near you!

Alumni Connections 

Get plugged in, wherever you are with:

Unit-specific contacts
Regional-specific contacts
Affinity group information 
Stay Connected 
Crimson & Gold Trail (Alumni owned businesses) 
Career tools to get you on your way
These resources can help empower recent alumni to plan, develop, and manage their careers for a lifetime by providing trusted, knowledgeable guidance and support.
Plug into the alumni community
The University of Denver's thriving alumni communities provide a wide range of opportunities for socializing, networking and volunteering, and contribute significantly to the rich alumni experience that defines DU.
Alumni Affinity Groups 
Alumni of ACTION represents University graduates from the Black, Asian, Indigenous, LGBTQIA and Latinx communities. The volunteer-led groups give DU graduates the chance to work with their DU classmates and fellow alumni to address local and global challenges while providing opportunities for the next generation.
Find out about more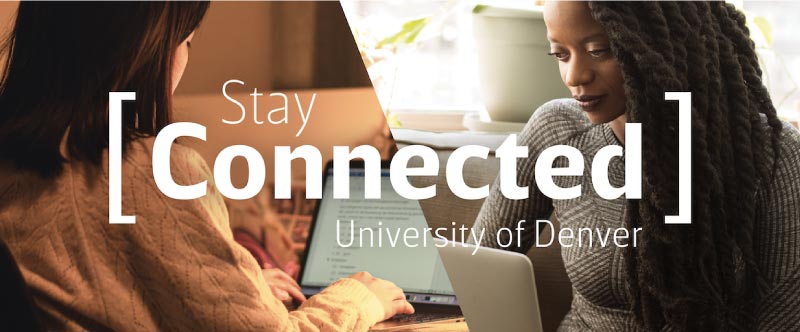 Stay Connected
While you may be working from home, facing career challenges or managing the stress of isolation, we want to provide these virtual resources to help, no matter where you are.
 
Check out the resources
Crimson & Gold Trail
The Crimson & Gold Trail is your guide to the best of the DU network in the Mile High City. With over twenty participating vendors and more being added every month, experience first-hand the passion and pioneering spirit of our alumni and the pioneers who are turning the region into a thriving hot spot.
Support alumni business